About Course:
The Advanced Diploma in Computer Application conducted by IFDA Institute has been designed for meeting the demand of the growing needs of experts in the field of Computer application, internet, operating systems, office automation, programming languages, tally, GST, CorelDraw, Photoshop, Typing, etc. This course gives complete advance knowledge of computer applications. Having advanced knowledge of computer application always makes you superior and IT field as it creates opportunities ahead in the future.

This is a 12 months long computer course, divided into smaller modules to assist the scholars to gain an understanding of the pc Applications within the theoretical and practical sense. During this course, the scholars are going to be taught to figure with different sorts of computer applications and become a professional.

ADCA (Advance Diploma in Computer Applications) is an easy and excellent way before youth to urge equipped with a variety of computer applications mastery. Needless to mention but computers have made their presence felt in every field and arena of human endeavor and once we get ourselves skilled in any such related arena, we will easily find an appropriate job.

In the superior arrangement of career paths, we at IFDA, a well-known computer training institute has launched this course which is targeted to satisfy the occupational requirements of graduates who have passed out from colleges in any field but whose eye superior career pathways to create a particular career. For computer skills, one has otherwise, to try to any of the specialization courses, like BCA, BE, MCA, B Tech, M Tech, etc, but through our ADCA course, one can expect to realize world-class knowledge and skills and may get his skill repose on the foremost exclusive ground, so as to garner an upscale professional expertise in IT when he/she enrolls for our offline/online ADCA course.

ADCA Computer is that the simplest computer course that desires to search out out computer basics and so these ADCA course notes are additionally useful for beginners and also the students who want to use for state jobs because today all vacancy additional eligibility is computer diploma.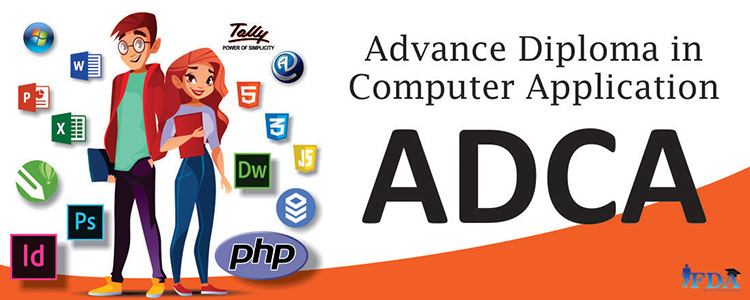 So it's an honest option to start to increase your computer application skills and also internet skills this can be often very beneficial for people who needed jobs after ADCA. Numerous jobs after ADCA Computer Course jobs, many small firms recruit candidates who have an Advance Diploma in computer application certificate and job profile are visiting be Computer Operator, Tally jobs, Accounting Section, Data Entry, Advance Diploma in computer application teaching job, etc.

ADCA Syllabus One year course divided into four semesters each is three months, all four semesters have a theory and practical exam, after a transparent first semester then you're eligible for the following one. We are advised to candidates when doing ADCA diploma firstly research about the institute and can ask their ADCA course details because all institutes have their own course content module, but basically all are same because some common course content beforehand diploma in computer application is Fundamentals, Some languages, internet, Accounting, etc. So firstly select which course structure you'd wish to attempt to.

Join Advanced Diploma in Computer Applications(ADCA) Classes today? Don't worry We "IFDA INSTITUTE" Kalkaji, Badarpur Delhi always here for you to unravel your all queries regarding Advanced Diploma in Computer Applications Course Classes and Advanced Diploma in Computer Applications coaching classes. Once you come to our IFDA institute you will get Advanced Diploma in Computer Applications Classes notes, Advanced Diploma in Computer Applications Classes books with Advanced Diploma in Computer Applications practical training, starting from the first step to the last step regarding course details and "Advanced Diploma in Computer Applications" classes guidance. Advanced Diploma in Computer Applications Classes also will help IGNOU and other universities BCA, MCA, and B.Tech students to prepare for his or her Term-End exams.


ADCA Course Content
Fundamental of Computer
Introduction of Computer
Evolution of the Computer
Computer Generations
Types of Computer
Characteristics of Computers
Classification of Computers
Basic Applications of Computer
Components of a Computer
Input / Output Devices
Concept of Hardware & Software
Computer Virus & Vaccines
Anti-Virus / Network
MS-Windows – 10
Introduction
Different Versions of Windows 10
Basic Elements of Opening Screen
WordPad / Notepad
MS-Paint / Calculator
Internet
MS Word
Intro of MS-Word
Advanced Formatting
Editing Document
Table in Document
Insert the Object
Mail Merge
Saving / Printing Document
Shortcuts Keys
MS Excel
Introduction to MS-Excel
Operator & Functions
Cell Formatting
Working with formulas and cell referencing
Auto sum
Formatting to worksheet
Graphic Objects
Chart / Sorting / Filtering
Scenario Manager
Goal Seek / Validation
Macro / Printing Worksheet
MS Power point
Introduction to MS- PowerPoint
Formatting
Drawing / Editing slides
Changing templates
Slide / Layouts
Inserting Clipart
Sound and Movies into Slides
Add and Delete Slides
Printing in Microsoft Power Point
Animation and Action Buttons
Adobe Photoshop
All Tools
Vector tools
Pattern/brush & gradient
Border creation through Bevel & Emboss
Layer styles
Types of layers
Linking & saving web page
Corel Draw
Introduction
Toolbox
Drawing Basic Geometric Figures
Saving & Closing a File
Bitmap and Vector Images
Importing / Exporting
Changing the Page Size
Scanning
Printing Works
Indesign
Page Setup
Tool Box
Numbering
Pages panel
Brochure
Magazine Page
Forms
Payment Slips
HTML
About & History of Html
Html Tag & Attributes
Image & Text link Tag
Html Table
Html5 & Audio, Video Tag
JavaScript
Introduction
Scripting, Data Type
Variables, Array
Operator, Function
Programming Construct
Dreamweaver
Interface Introduction
Making Website
Using Image & Link
Designing with Table
Making Online Forms
SQL
Elements (Datatypes, Operators, Clause)
Sublanguages (DDL, DML, DCL, TCL, DQL)
Joining & Set Operation
Objects (View, Synonym, Index, Sequence)
Tally
Fundamentals of Accounting and Inventory Management
Accounting day to day transactions
Receivables and Payables Management
Banking and Payments
Storage and Classifications of Inventory
Administration of Complete Order Processing
Data Management
GST
Introduction to GST
Getting Started with GST (Goods / Services)
Recording Advanced and Adjustment Entries
E-Way bill
Generating GST Reports
Filing of error free return
2A Reconciliation
TDS
Introduction
TDS Process
Enabling TDS in Tally
Issue of TDS Certificate
Creating TDS Masters
TDS on Expenses
TDS Report
Payroll
introduction
Enabling Payroll in Tally
Enabling Payroll Statutory Features
Five Steps to Generate a Pay slip
Creating Employee Group / Payroll Unit /Attendance/Production Types / Pay Heads
Defining Salary Structure
Voucher Types in Payroll
Payroll Transactions
Salary Process
Typing
Home Row / Top-Row Bottom-Row Keys
Fourth-Row Number and Symbol Keys
Shift Keys
Mastering the Keys
Skill Drills
Sentence Repetition
Speed Boosters
Spoken English
Part of Speech
The English Tense System
Learn Phrases
Tongue Twisters
Number Homophones
Vocabulary Word
Pronunciation Tips
Speak in front of mirror
Participate in English conversations: Listen, talk and learn
Read English News Papers
Why to choose IFDA for ADCA course ?
IFDA has highly qualified trainers who assist the students and shape their future in a successful direction. ADCA is becoming a trending course in the market as it is a complete package to learn advanced computer application software. IFDA provides you a platform to explore yourself in the IT field with a 1-month internship which is given to all our students of each software course included in this ADCA course. ADCA is a job-oriented course and IFDA gives you 100% job assistance in this diploma course. Flexible batch timings are available on weekdays and weekend classes are also available.
Benifits of ADCA:
Nowadays it is very important to have at least computer basic knowledge and it is always better if one has advanced computer knowledge as it creates career opportunities ahead in the future. That is why many people recommend you to go after ADCA. This diploma course furnishes you with multiple career opportunities in various IT sectors. The students get an opportunity to learn a complete package of computer applications at an advanced level. After completion of the course, students get a good job in IT sectors with high salary package.
Job Opportunities:
Networking & Internetworking
Database Developer & Administrator
Technical writer
Graphic Designer
Software designer
Web / e-commerce developer