About Course:
The Advanced Diploma in Computer Application conducted by IFDA Institute has been designed for meeting the demand of the growing needs of experts in the field of Computer application, internet, operating systems, office automation, programming languages, tally, GST, CorelDraw, Photoshop, Typing, etc. This course gives complete advance knowledge of computer applications. Having advanced knowledge of computer application always makes you superior and IT field as it creates opportunities ahead in the future.

This is a 15 months long computer course, divided into smaller modules to assist the scholars to gain an understanding of the pc Applications within the theoretical and practical sense. During this course, the scholars are going to be taught to figure with different sorts of computer applications and become a professional.

ADCA (Advance Diploma in Computer Applications) is an easy and excellent way before youth to urge equipped with a variety of computer applications mastery. Needless to mention but computers have made their presence felt in every field and arena of human endeavor and once we get ourselves skilled in any such related arena, we will easily find an appropriate job.

In the superior arrangement of career paths, we at IFDA, a well-known computer training institute has launched this course which is targeted to satisfy the occupational requirements of graduates who have passed out from colleges in any field but whose eye superior career pathways to create a particular career. For computer skills, one has otherwise, to try to any of the specialization courses, like BCA, BE, MCA, B Tech, M Tech, etc, but through our ADCA course, one can expect to realize world-class knowledge and skills and may get his skill repose on the foremost exclusive ground, so as to garner an upscale professional expertise in IT when he/she enrolls for our offline/online ADCA course.

ADCA Computer is that the simplest computer course that desires to search out out computer basics and so these ADCA course notes are additionally useful for beginners and also the students who want to use for state jobs because today all vacancy additional eligibility is computer diploma.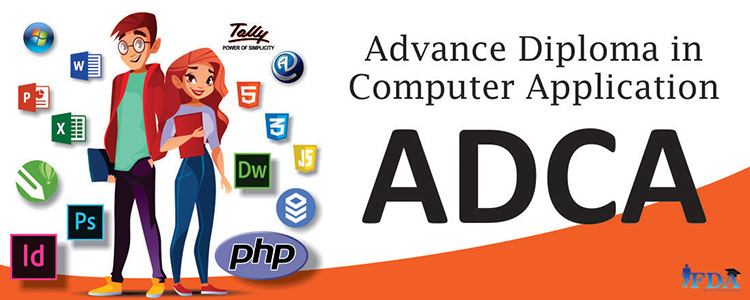 So it's an honest option to start to increase your computer application skills and also internet skills this can be often very beneficial for people who needed jobs after ADCA. Numerous jobs after ADCA Computer Course jobs, many small firms recruit candidates who have an Advance Diploma in computer application certificate and job profile are visiting be Computer Operator, Tally jobs, Accounting Section, Data Entry, Advance Diploma in computer application teaching job, etc.

ADCA Syllabus One year course divided into four semesters each is three months, all four semesters have a theory and practical exam, after a transparent first semester then you're eligible for the following one. We are advised to candidates when doing ADCA diploma firstly research about the institute and can ask their ADCA course details because all institutes have their own course content module, but basically all are same because some common course content beforehand diploma in computer application is Fundamentals, Some languages, internet, Accounting, etc. So firstly select which course structure you'd wish to attempt to.

Join Advanced Diploma in Computer Applications(ADCA) Classes today? Don't worry We "IFDA INSTITUTE" Kalkaji, Badarpur Delhi always here for you to unravel your all queries regarding Advanced Diploma in Computer Applications Course Classes and Advanced Diploma in Computer Applications coaching classes. Once you come to our IFDA institute you will get Advanced Diploma in Computer Applications Classes notes, Advanced Diploma in Computer Applications Classes books with Advanced Diploma in Computer Applications practical training, starting from the first step to the last step regarding course details and "Advanced Diploma in Computer Applications" classes guidance. Advanced Diploma in Computer Applications Classes also will help IGNOU and other universities BCA, MCA, and B.Tech students to prepare for his or her Term-End exams.


ADCA Course Content
Why to choose IFDA for ADCA course ?
IFDA has highly qualified trainers who assist the students and shape their future in a successful direction. ADCA is becoming a trending course in the market as it is a complete package to learn advanced computer application software. IFDA provides you a platform to explore yourself in the IT field with a 1-month internship which is given to all our students of each software course included in this ADCA course. ADCA is a job-oriented course and IFDA gives you 100% job assistance in this diploma course. Flexible batch timings are available on weekdays and weekend classes are also available.
Benefits of ADCA:
Nowadays it is very important to have at least computer basic knowledge and it is always better if one has advanced computer knowledge as it creates career opportunities ahead in the future. That is why many people recommend you to go after ADCA. This diploma course furnishes you with multiple career opportunities in various IT sectors. The students get an opportunity to learn a complete package of computer applications at an advanced level. After completion of the course, students get a good job in IT sectors with high salary package.
Job Opportunities:
Networking & Internetworking
Database Developer & Administrator
Technical writer
Graphic Designer
Software designer
Web / e-commerce developer