About Course:
Students who have passed the 10th examination can pursue this 12 months diploma in computer application. This course is designed for students who want to enhance their knowledge of Computer applications. The persons who are interested in computer technology can go on to a Diploma in Computer Application. This course gives complete practical and technical knowledge to learners regarding various computer tools that are used in day to day life.
Diploma in Computer Application [DCA]: What is it about?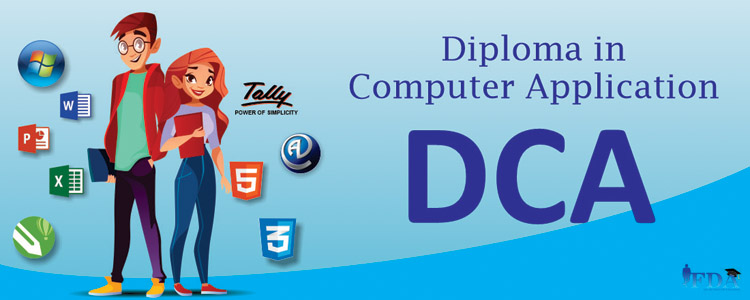 Diploma in Computer Applications is a one 12 months diploma route to find out about laptop purposes in depth. two The route imparts scientific, realistic and technical information to its inexperienced persons about a number of computer equipment that is used in day to day life. The functions make tasks simpler and provide ease of use.

A pc programmer or operator is in high demand in all sectors of the market. They are used at retail outlets to create a database for all the objects with their serial numbers, price and volume ratios. At schools, laptop operators are required to sit down in the back of the desk and control the laptop database for the school, listing of all the students, their details, charge payment, enrollment details and all other things to do of college students are recorded in the computer.

An environment-friendly computer operator is wanted to manage such large data. In offices, pc operator takes care of the back door working and maintains employee's facts on the computer. The advantages of pc are many and an efficient computer technician is required to facilitate pc tasks. That is why DCA degree used to be created as it imparts know-how related to computer systems in a brief length of time.

Another benefit is that absolutely everyone is eligible to find out about this diploma course. After completing DCA you can have a number of career possibilities and all sectors are open to you. This application imparts specialization in the fields of:
Basics Computer Skills
MS Office Applications
Internet Basics
E-Business
Software Hacking & IT security
PC Assembly and Troubleshooting
Software Engineering
It can be pursued both, after completing the 10 + 2, Graduation and Post-Graduation (PG). It studies a number of computer functions like MS Office, Internet applications, Operating System, Database Management System, HTML amongst other subjects. A character who has done DCA can observe as a computer operator in any firm. He or she can get placed at clerical stages like receptionist, pc operator or cyber cafe owner. He can additionally work at BPO. DCA diploma holders can execute fundamental computer tasks and can also come to be an Accountant. He/she can also end up a laptop instructor at the most important level or can also personal Computer instructing Centre for young people or adults who want to examine computer basics. DCA is a really useful diploma as it is 6 months to 1 yr diploma direction (varies from institute to institute). You can research a range of laptop applications in a count of a year. People additionally pursue DCA after finishing years of their education. Anyone who wants to polish their laptop running competencies must do DCA as he can get conscious of the fundamental utilities of a computer. Wanna Join Diploma in Computer Applications Classes today? Don't fear We "IFDA Institute" Kalkji, Badarpur Delhi constantly here for you to clear up your all queries regarding Diploma in Computer Applications Course Classes and Diploma in Computer Applications teaching classes. When you come to our Software improvement education institute you will get a Diploma in Computer Applications Classes notes, Diploma in Computer Applications Classes books with Diploma in Computer Applications realistic training, beginning from the first step to the last step regarding path important points and "Diploma in Computer Applications" lessons guidance. Diploma in Computer Applications Classes will also help in IGNOU and other universities BCA, MCA, and B.Tech students to prepare for their Term-End exams.
Eligibility for Diploma in Computer Application [DCA]:
Students who wish to pursue their Diploma in Computer Applications (DCA) should have completed their higher school/ 10 + 2 from a recognized school. If they have chosen Computers as their important or elective situation after the tenth general has an additional part over others. Apart from this, no other eligibility standards are set for aspirants. No minimal cutoff is required and anyone who has performed high school can enroll for this degree.
Admission Process for Diploma in Computer Application [DCA]:
To get admission to a number of colleges or universities for DCA, the pupil have to visit the college or college website to get information about the admissions. Generally, admissions are carried out in the months of March, April, May and June. No entrance tests are required, hence, admission can be secured on the basis of a closing mark sheet of 10+2. In some colleges, DCA can be pursued with the aid of publish graduate degree holders also. In this case, their PG degree will be regarded for the final admission.
DCA Course Content
Why to choose IFDA for DCA course ?
IFDA provides complete practical and job-oriented training by the experts and experienced trainers. Students get 3 certifications in this diploma course which is valid all over India. Students get an opportunity to attend Job fair and interview sessions conducted in IFDA itself.

Since the DCA course is a complete job-oriented course that is why after completion of the course students get a free 1-month internship in IFDA where they gain experience and also get 100% job assistance.
Benefits of DCA:
In a short duration of time, students get the basic and advance knowledge of computer applications and also learn what is relevant to the current industry in a short period of time. Nowadays there is a huge demand for the students who are experts in computer application software, so this course is a complete package to be competitive in the market. As we know salary is the most attractive feature of the job for the applicant so, after doing this short term diploma in computer application students get jobs with a good salary package.
Job Opportunities:
Networking & Internetworking
Database Development & Administration
Programming - Development tools, languages
Technical Writing
Software Design & Engineering
Graphic Design and Animation
Web/ e-commerce Development