About Course:
TDS (Tax deduction at source) has become an essential part in the calculation of income tax.. Every Accountant should know TDS practical work. IFDA provides you all the content of this course which is a part of our Tax Expert Course. IFDA has designed this course for those students who is interested in Accounting & Taxation. After completion of this expert level course you can perform well as an Accountant. TDS is a job-oriented course covering the details of TDS and its returns.
What is TDS?
TDS or Tax Deducted at Source is profits tax decreased from the cash paid at the time of making exact payments such as rent, commission, expert fees, salary, activity, etc. through the persons making such payments.

Usually, the man or woman receiving profits is dependable to pay profits tax. But the government with the help of Tax Deducted at Source provisions makes sure that income tax is deducted in development from the payments being made by you.

The recipient of earnings receives the net amount (after lowering TDS). The recipient will add the gross amount to his income and the amount of TDS is adjusted against his closing tax liability.
When should Tax Deducted at Source (TDS) be deducted and by whom?
Any person making certain repayments referred to under the Income Tax Act are required to deduct TDS at the time of making such a designated payment. But no TDS has to deducted if the character making the fee is a character or HUF whose books are no longer required to be audited.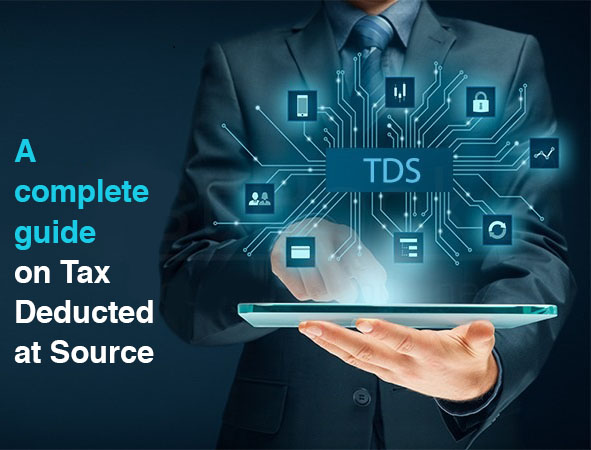 However, in case of lease repayments made with the aid of individuals and HUF exceeding Rs 50,000 per month, they are required to deduct TDS @ 5% even if the person or HUF is not in charge of a tax audit. Also, such Individuals and HUF in charge to deduct TDS @ 5% want no longer follow for TAN.

Your company deducts TDS at the earnings tax slab costs applicable. Banks deduct TDS @10%. Or they may deduct @ 20% if they do no longer have your PAN information. For most payments fees of TDS are set in the income tax act and TDS is deducted by way of payer foundation these certain rates.

If you post-funding proofs (for claiming deductions) to your employer and your complete taxable earnings is below the taxable limit – you do no longer have to pay any tax. And consequently, no TDS should be deducted on your income. Similarly, you can put up Form 15G and Form 15H to the bank if your total earnings are below the taxable restriction so that they don't deduct TDS on your activity income.

In case you have no longer been in a position to submit proofs to your company or if your business enterprise or financial institution has already deducted TDS and your total profits is under the taxable limit) – you can file a return and claim a refund of this TDS.

The whole listing of Specified Payments eligible for TDS deduction alongside the charge of TDS.
How to credit TDS?
Tax Deducted at Source has to be deposited the usage of Challan ITNS-281 on the authorities portal.

Read our article for a step by step guide to credit score TDS.
How and When to file TDS returns?
Filing Tax Deducted at Source returns is mandatory for all the humans who have deducted TDS. TDS return is to be submitted quarterly and various important points need to be furnished like TAN, amount of TDS deducted, kind of payment, PAN of deductee, etc. Also, specific types are prescribed for filing returns depending upon the reason for the deduction of TDS.
What is a TDS certificate?
Form 16, Form 16A, Form 16 B and Form sixteen C two are all TDS certificates. TDS certificates have to be issued by a person deducting TDS to the assesses from whose earnings TDS was once deducted whilst making payment.

For instance, banks issue Form 16A to the depositor when TDS is deducted on pastime from constant deposits. Form 16 is issued via the company to the employee.
TDS credits in Form 26AS
It is necessary to recognize how TDS is linked to your PAN. Tax Deducted at Source (TDS) deductions is linked to PAN numbers for both the deductor and deductee. If TDS has been deducted from any of your earnings you have to go through the Tax Credit Form 26AS. This form is a consolidated tax statement which is on hand to all PAN holders. Since all TDS is linked to your PAN, this structure lists out the details of TDS deducted on your earnings by using every deductor for all types of repayments made to you – whether those are salaries or interest income – all TDS linked to your PAN is stated here. This form additionally has earnings tax directly paid by using you – as increase tax or self-evaluation tax. Therefore, it becomes necessary for you to point out your PAN correctly, wherever TDS may additionally be relevant to your income.

You can effortlessly file your TDS returns via ClearTax software i.e. ClearTDS. It is an online TDS software that requires no download or computing device installation or software program update. It helps you to prepare every day & correct e-TDS statements online without difficulty with just a few clicks on your computer. It is additionally well matched with TDS returns of preceding economic years for convenient import.

Also, you can generate your TDS certificates for the usage of ClearTDS.
SMS Alerts for Higher Transparency
The income tax department has been sending SMS to the taxpayers from VK-ITDEFL that mentions the amount of tax deducted at source (TDS) in opposition to the PAN (Permanent Account Number) of the taxpayer. The SMS alert will let you be aware of the TDS credited in admire of your profits from salary, interest, etc., every quarter. The quantity of TDS would stand collected in your Form 26AS for the respective financial year.

This initiative used to be applied through the Finance Ministry to expand transparency and decrease the instances of TDS mismatches at the time of income tax filing. Taxpayers can cross-check the records provided in the SMS with the facts on the payslips to make sure that there is no mismatch. TDS mismatch should be a common motive for improper earnings tax return filing.
liabilities in the course of a case the location TDS is already deducted from Income
On salary, TDS is deducted primarily based completely on the tax slab applicable to you. within the case of other income types, the TDS costs are constant and range between 10% and 20%. The tax fees are no longer any longer based totally on your total income. Hence, you would suffer a TDS on your receipts in positive cases.

Separately, you'd be required to calculate your annual revenue by using aggregating earnings from all sources. Your proper tax liability would be calculated on the complete taxable income.

From the taxes calculated, you'll declare credit for TDS deducted on your range of receipts. Reduce the tax deducted at supply from your ideal tax legal responsibility to recognize the steadiness to be paid to the tax department. you would possibly even have a refund too. In every case, you've received to file a tax return and pay the tax due or declare a refund.
TDS course Module:
Basic Concepts of TDS
TDS in Tally Prime
Recording Transactions
Accounting for TDS on Advance Payments
TDS on Expenses at Lower Rate
TDS on Expenses at Zero Rate
Deducting TDS on Payments
Reversal of Expenses with TDS
TDS Reports
Challan Reconciliation
TDS Outstanding
E- Return etc.
Why to choose IFDA for TDS course ?
TDS course is becoming one of the professional course in accounting to perform the calculation of Income tax return well. IFDA has brought TDS training in Delhi by qualified & expert persons in accounting. Flexible batch timings are available in weekdays and weekend classes are also available.

IFDA provides you a platform to explore yourself in accounts field. Free 1-month Internship is given to all our students in our accounting firm "Profit Fusion India" with 100% job assistance facility.
Benefits of TDS:
This accounting course will help you to find better job opportunities in various sectors. Students will learn how to file online ITR-TDS return under the guidance of experienced and expert trainers.

This course will help you to start your consultancy. Every accountant need to learn this as obviously company or business houses will not hire separate auditor. So it is very essential to get the complete knowledge of TDS to take a growth in career and also to establish ourselves in this competitive market.
Job Opportunities:
Accounts Executive
Tax Consultant
Tax Advisor
Tax Practitioner
Entrepreneurship
Financial Advisor, etc.