About Course:
Web designing deals with the process of developing a website. It is a short-term job-oriented course where students get compressive web designing training with smart tricks and methods. There are huge opportunities available for students who want to work in this field. Many private and public organizations hire web designers for their online work and website development. Students get the opportunity to learn the fundamental of web designing and how to plan and create visuals for a website. Establishing an online presence is somewhere important and mandatory too for connecting users to trust. For doing this process, you need to make a website which is a method to permit you to stand reliably with your audience. IFDA is the Top Web Designing Institute in Delhi.
What is Web design?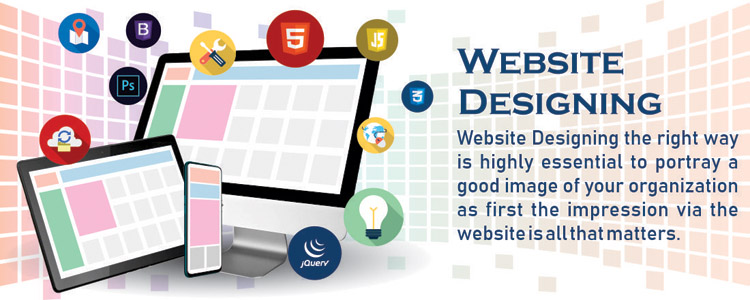 Everything about your website - including the content, the way it's, and therefore the way it works - is decided by the web site design. Web design may be a process of planning, conceptualizing and building a set of electronic files that determine the layout, structure, text styles, graphics, colors, images, Professional Web design helps to form your business appear credible online.

When you're able to build an internet site, you've got several options. If you're not conversant in HTML programming language and Web design applications, there are a variety of other options for creating your Web design:

Hire a knowledgeable website design expert to make and build a singular internet site.

Create your own website design using off-the-shelf software like FrontPage or Dreamweaver. (These software packages do require technical expertise.) Use online website design tools with pre-set and/or customizable Web design templates to customize together with your company colors, graphics, and text. The degree of customization included in your website design will determine the speed and price of getting your site up and running. As important as having an excellent name, professional web design can help you:
Satisfy customers

Professional Web design meets the requirements of your visitors – telling them quickly what they need to understand without unnecessary and confusing design items. ensuring the navigation in your internet site design is predictable, consistent and straightforward to know will help build a positive relationship together with your visitors.

Attract search engines

Regardless of how appealing your internet site design looks, it won't show abreast of the program results pages if it isn't coded during a way that the search engines can read.

Avoid technical glitches

It doesn't take much to show a customer away. Lengthy loading times, broken links and dropped images are just a couple of the online design issues which will be remedied by knowledgeable Web design service.

By reaching bent customers and search engines alike, internet site design serves a crucial dual purpose that features a great impact on your online sales.
How Can the IFDA institute assist you with internet site Design?
IFDA institute provides customized, professional Web designing packages that allow you to possess knowledgeable website design deserve representing your company. You'll prefer to work one-on-one with a knowledgeable Web design expert to style and build your website using the newest internet site design techniques, otherwise, you may take a more hands-on approach and use customizable internet site design templates to create the web site yourself.
Either way, IFDA institute's professional Web design tools, and Web hosting packages can help to make sure that your internet site design looks great and does exactly what it's meant to do: meet the requirements of your customers.
13 Best Web Designing Software You Don't Want to Miss
WordPress
Contact form 7
Gator Builder
SiteBuilder
Divi
Weebly
Adobe Photoshop
Adobe Dreamweaver
Canva
Bootstrap
Wpbakery page builder
Elementor page builder
Figma
Website Designing Course Content
Photoshop
Introduction to Photoshop
Background Change
Retouching on Image
Working with brush
Creation of pattern, brush &
gradient
Pen & Other Vector tools
Types of Layers
Types of Masking
Manipulation Techniques
Alignments and Distributes
Linking and grouping
File management
Import / Export
Action & Batch
Image Adjustments with Levels
and Curves
Tips and Tricks
Saving web page
Creating GIF's & video
Variables & Print
Styles & Blending options
Type & Selection
Liquify & Vanishing point
Working with 3d objects
HTML
Introduction to WEB

W3C and W3C Members
Why WHATWG?
What is Web?

HTML Basics

Introduction
Parts in HTML Document
Editors, Elements, Attributes, Headings
Paragraphs & Formatting
Links, Head, Images & Tables

HTML5 Introduction

HTML5 HISTORY
New Features and groups
Backward Compatibility
Why HTML5?

HTML5 Form Elements
HTML5 Form Attributes

New attributes for form and inputNew attributes for form: autocomplete novalidate

New attributes for input

Autocomplete, autofocus, form, formaction
formtarget, height and width
list, min and max & multiple

HTML5 Semantic

Introduction
What are Semantic Elements?
non-semantic elements: div and span
semantic elements: form, table, and img
New Semantic Elements in HTML5
header & nav
section, article, aside, figcaption, figure, footer

HTML5 SSE

One Way Messaging
Browser Support
The EventSource Object

HTML Media

New Media Elements
Audio, video, source, embed, track

HTML Multimedia

What is Multimedia?
Browser Support
Multimedia Formats
Video Formats
Sound Formats
CSS
Introduction to CSS
Syntax
Selectors, Colors & Backgrounds
Borders, Margins& Padding
Height/Width & Outline
Text, Fonts & Tables
Links, Lists & Display
Max-width
Position & Overflow
Float, Align & Opacity
Navigation Bar & Dropdowns
Image Gallery
Image Sprites
Attribute Selectors
Website Layout
Java Script
Introduction to JavaScript
Syntax
Comments
Variables & Bitwise Operators
Arithmetic
Data Types & Functions
Objects & Events
Arrays Methods, Sort & Iteration & Strings
Dates & Math
Random
Booleans & Comparisons
Conditions & Switch
For & While Loop
Break & type conversion
DOM
BOM
Dreamweaver
Interface Introduction
Making Website
Using Image & Link
Designing with Table
Making Online Forms
PHP
Description
Elements
Control Structure
Array
String Handling
File Handling
Form Handling
PHP Session
PHP Cookie
PHP Send OTP
PHP Email
SQL
Intro to SQL
Select Distinct
Where
And, Or, Not
Order By
Insert Into
Null Values
Delete
Min and Max
Count, Avg, Sum
Wildcards
In & Between
Joins
Union & Group By
Having & Exists
Why to choose IFDA for Web Designing course ?
IFDA comes as a top web designing training institute with its good rate of success in past years. At IFDA, we will teach to create a website that is SEO friendly. Creating SEO friendly website is easy to manage and rank than Non-SEO friendly website. We offer the latest technology and the best way of teaching web designing concepts.

IFDA will take you through a practical environment where you get a chance to work on live sites as per your skill sets. You will learn to create a website by customizing it for google. IFDA guarantees you to edge over others and gives you 100% job assistance. Websites are the basic need to represent the business body. So, it becomes very easy to get a job in web designing but IFDA also helps students for getting a good salary package job post.
Benifits of Web Designing:
There is a huge demand for designers in the market and pursuing web designing courses can enhance the job prospects of candidates. To be a good web designer you should have a complete knowledge of CSS and HTML which is provided by the professional trainers at IFDA. A web designer can never be out of a job because the internet needs them for its survival and vice versa.

Web Designing is a promising career opportunity which displays immense scope for interested candidates. In India, there is a huge demand for website designers in the IT industry. Clients interested in getting their online presence established are approaching the software giants to get their Web sites designed and we help the recruiters to get the giants from IFDA.
Job Opportunities:
Web application developer
Front end web developer
Back-end web developer
Design and layout analyst.
Web marketing analyst.
Senior web analyst.